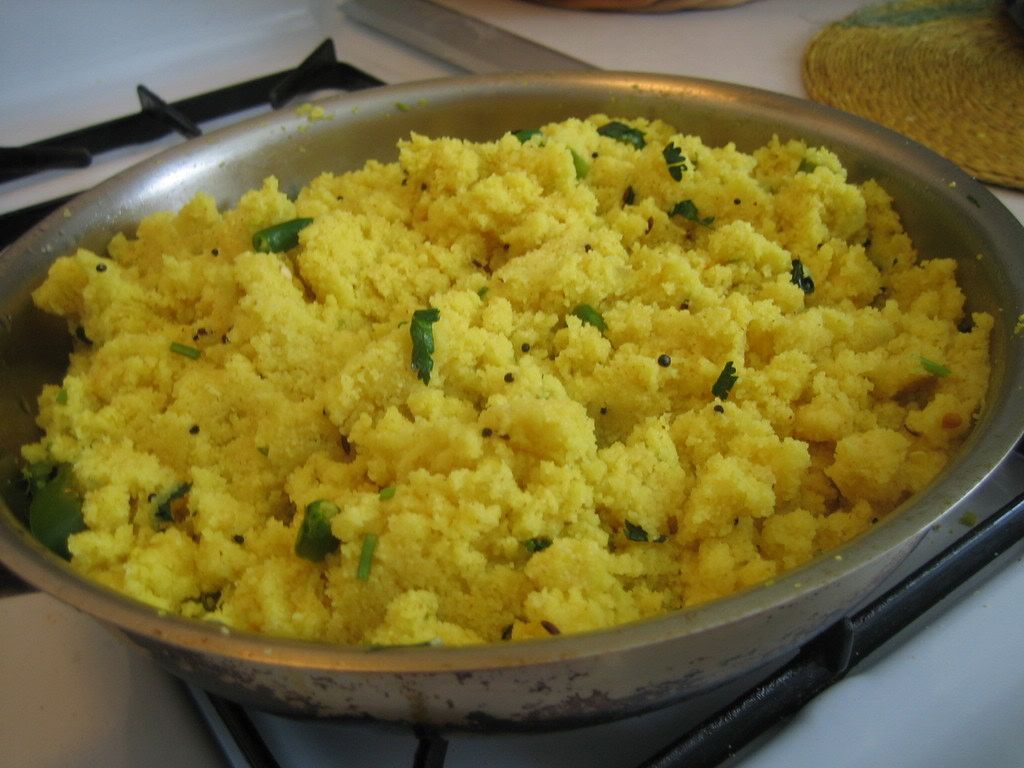 This dish is another Indian favorite. Often it is eaten with plain yogurt on the side and many a times is served for breakfast. The main ingredient  is Semolina which  is a kind of pasta. It is called  Rava  or Soji in India. However, Semolina is not confined to the borders of the East. Semolina is made from durum wheat or other hard wheat. In fact, the Italians use Semolina for the basis of dried pastas, which is made from finely ground  semolina. Couscous, from the Mediterranean, is made by mixing about 2 parts Semolina with 1 part finely ground semolina. Sounds kind of confusing? Basically we are talking about Semolina grains and then semolina powder. Also used in pizza instead of corn meal flour to make the crust a bit crisp and prevents the dough from sticking to the pan.
Nutritional Info for Semolina- Has virtually no Saturated Fat, Cholesterol and Sodium. It is also a good source of Thiamin and Foliate. The recipe below also has very little saturated fat, sodium, and cholesterol.
Total 4 Servings.
1 Cup Rava (Semolina). You can get it easily at any Indian
Grocery. And you might have to try a little bit harder in the Super Markets.
4tbsp. Canola oil
4 Hot green chilies. Chop into big pieces.(you may substitute with 1 Tbs. of red chilly powder/omit it completely if choose not to have spicy hot)
½ tsp. Mustered Seeds
½ tsp. Cumin Seeds
½ tsp. Turmeric Powder
¼ Asafetida (Optional). It is called Hing in India.
1 tsp. Salt (as per Taste)
2 tbsp. Lemon Juice (as per taste)
8 Curry Leaves
½ Cup chopped coriander leaves.( Keep half of this aside for garnishing)
3 Cups of water
For Garnishing:-
Half of the above chopped coriander leaves
2 tbsp. freshly grated coconut/dry coconut powder(available at any Indian Grocer/Super Markets.
Cooking Instructions:-
Need a suitable microwavable bowl and pan with a lid.
Put Semolina evenly in a suitable microwavable bowl and set for 1 minute at a time, totally for 3 times (for 3 minutes), stirring each time to save from burning.
In a suitable pan heat the oil on medium heat for 1 minute. Add Mustard seeds and cumin seeds together and stir. When the mustard seeds start popping up, lower the heat to low. Add curry leaves and the cut green chilies/red chilly powder, and stir. Add Tumeric and Asafoetida powders , salt and stir. Add half of the coriander leaves and the water and stir. Cover the pot. Cook it on low heat for 5 minutes. Open the cover and add the lemon juice and stir it into the cooked mixture. Take it out in a serving bowl and garnish it with chopped coriander leaves as shown in the picture.
If you are a yogurt lover, it tastes nice with plain yogurt.