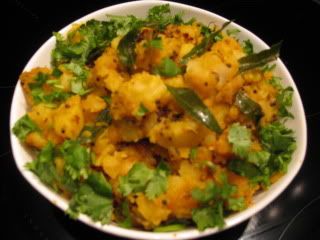 Potato Bhaji ( Spicy Potatoes Indian style)
4 Servings
Ingredients:-
2 large Potatoes roughly 1 lb. (Idaho)
4 Table spoons of Canola oil
¾ Tea spoon of Red chilly powder
½ Tea spoon Turmeric powder
1 Tea spoon salt (as per taste)
Mix all the above 3 ingredients together and keep them ready in a small bowl.
1 Tea spoon mustard Seeds
1 Tea spoon Cumin Seeds
8 Curry leaves (optional, available in Indian grocery stores)
½ cup of chopped coriander leaves
Directions:-
Put the potatoes in a suitable Microwave safe bowl with 1 cup of
Water and cover it tightly with clear plastic wrap suitable for the microwave. Cook for 10 minutes on high heat. Punch a small hole
on the wrap to let the steam out. Put a knife through the potatoes to check if they are boiled and if not again cook them in the Micro for another 3 minutes. Take them out and drain out all the water. Let them cool for 15 minutes. Then skin them and cut them into small 1 inch pieces and set them aside in a bowl.
Take a suitable cooking pan which could hold all the cut potatoes.
Add all the oil to the pan and put it on the medium heat for couple of minutes. Add curry leaves and stir for a minute (optional). Add mustard seeds and cumin seeds and stir for a minute. Add the cut potatoes and stir well till all the potatoes are covered with oil. Sprinkle the mixed 3 ingredients (turmeric& red chilly powders and salt).Mix them into the potatoes gently. Add half of the chopped coriander leaves and mix gently. Cover the pot and reduce the heat to lowest. Cook for 8 minutes. Turn off the heat and take out the cover. Place the Bhaji in a serving bowl and garnish with the remaining chopped coriander leaves as shown in the picture.
You may sprinkle 1 tea spoon of lemon juice or keep lemon slices aside if any one is a lemon lover. This Bhaji is is served with Indian bread like Naan or Paratha or Puri. But it also goes very well with any bread of your choice.