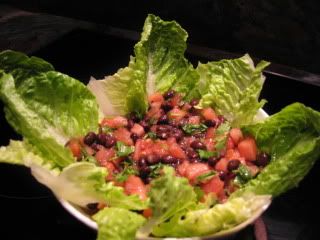 Black Beans Salad
Service for 4
Ingredients:-
1 Can (15 oz.) Black Beans of your choice
2 Large ripped fresh tomatoes
2 Tea spoons of lime juice
3 Table spoons of Taco Bell Restaurant Sauce, mild/hot as per taste.
¼ Teaspoon of salt, as per taste
½ cup of chopped fresh coriander leaves (optional)
8 Leaves of fresh lettuce ( Romiane Heart)
Directions:-
Open the Black Bean can and empty it into a suitable mixing bowl.
Wash and cut the tomatoes into small ¾ inch pieces and add them to the black beans.
Add leman juice, Taco Bell Sauce, salt and chopped coriander leaves.
Mix well all the above well with a fork and leave it covered in the fridge for at least 20 minutes.
Arrange the lettuce leaves in the serving bowl as shown in the picture and
put the cold black beans salad in the center. Tastes nice by itself or as a side dish.
Sonia.