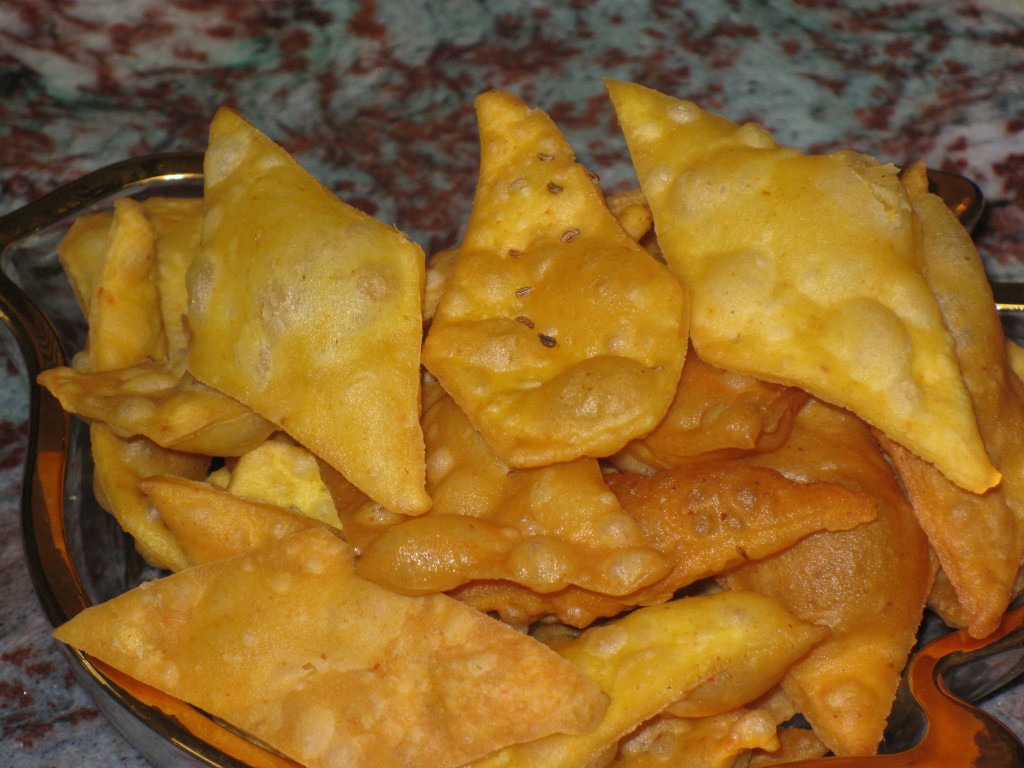 SPICED SHANKARPAKAS (Spiced Chips)
Ingredients:
1 ½ cups of All Purpose Flour
2 tbs. Chickpea flour
½ tsp. Red Chilly Powder(as per taste)
½ tsp. Salt (as per taste)
¼ tsp. Baking Soda (2 pinches)
2 tbs. Olive/Canola oil
¼ cup of cold water
3 Cups of oil for deep frying (Canola oil/oil of your choice)
2 tbs. of All Purpose Flour for dusting while rolling the dough.
Place this flour on sprinkled evenly on a large plate.
Directions:-
Mix all the first five dry ingredients . Add 1 tbs. of oil and mix well. Gradually add the water 1 tbs. at a time and form firm dough.
If necessary add less or more water if required but make sure that the dough is firm and not loose and sticky. Brush the remaining 1 tbs. of oil all over the dough and cover the dough with a plastic wrap. Leave it for 20-25 minutes. Make 8 equal balls of the dough.
Add 3 cups of oil in the deep fryer of your choice and place on medium fire. For about 5 minutes.
Keep couple of paper towels on a plate/bowl to take out the fried
Shankarpalas so that extra oil is absorbed on the paper towel.
While the oil is getting roll each ball after dusting with the flour in the large plate. Roll it into round shape about a size of 5-6 diameter. Cut it into diamond shapes with a knife as shown in the picture. Pick them up individually and put the carefully into the fryer. Fry them for about 2-3 minutes by turning them couple of times so that they get fried evenly. Take them out of fryer on a plate/bowl with paper towel when they are light brown. Rpeat the same till you finish with all the remaining 7 dough balls.
Put the in a serving bowl or store them in a air tight jar when they are completely cool.
Step by step demonstration:-