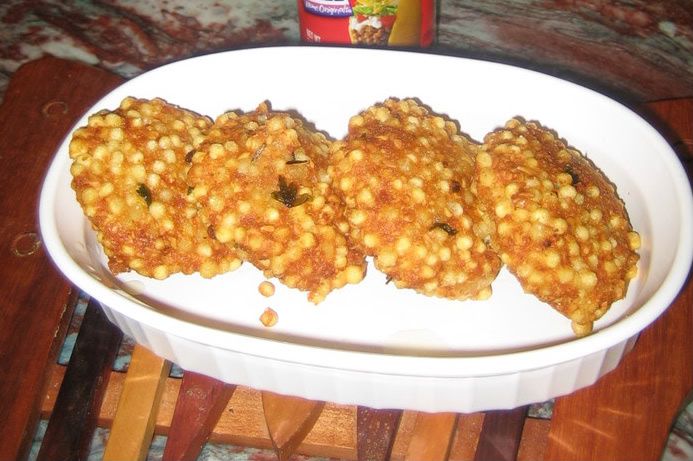 Sago palm is a crop that grows successfully on deep peat in Sarawak. It's a flowering palm which stores starch in the trunk. Basically, Sago starch is valuable source of carbohydrates. It is widely used in the food industries. Products that had been produced from sago starch are, high fructose syrup, glucose, maltose, dextrose, caramel, vinegar, bakers' yeast and products for local food industries. Sago starch has also been used as a base for medicines and cosmetic and for some animal feeds.
In Asia, there are many factories which make tiny white balls out of
this starch and they are sold in packets as Sago. Many recipes are made
out of these tiny balls and they are extremely popular. Sago is
considered as a food which is very easy to digest. It substitutes rice and
yet it is cooked very differently. It is also known as Tapioca.
It needs to be washed gently without rubbing during the wash or else the
tiny balls would get dissolved into the water. Just put them in a strainer
and put the strainer under running cold tab water a minute or two.
Quickly put them in another sufficiently large container and add some
water as per the recipe for soaking, at least for 45 minutes before cooking.
Sago is easily available in small packets at all Indian Grocery Stores.
Sago Vada ( Vada means patties).
Ingredients:-
1 cup of Sago.
Wash as directed above and put in a suitable bowl with 3 table spoons of
water. Stir the balls so that they are evenly soaked in the water. Cover
the bowl and leave it for 45 minutes and again stir them. Now they are
ready for the following preparation.
½ cup of roasted peanuts. Grind them in the grinder and make them into
semi powder
1 Large boiled and skinned Potato/2 medium size boiled and skinned
potatoes. Crush them into tiny pieces
1 Tea spoon Red Chilly powder
1 Green chilly. Chop it finely(optional)
½ cup of chopped Coriander leaves
1 Tea spoon of Salt
3 Cups of Canola oil for frying the Vadas (patties)
You will need the following utensils:
A sufficiently large mixing bowl which could hold all the above
ingredients.
A large plate to keep the patties made out of the above mixture.
A sufficiently big deep frying pan/fryer and a frying spoon.
Directions:-
Put soaked Sago and the Pea Nut powder in the large bowl and mix
them together with hands( you may need gloves).
Add all the other ingredients and mix them together. Kneed the
mixture lightly to make it into dough. Divide it into 8 equal balls.
Flatten them like patties by pressing between the two palms and leave
them on the large plate, uncovered,10 minutes.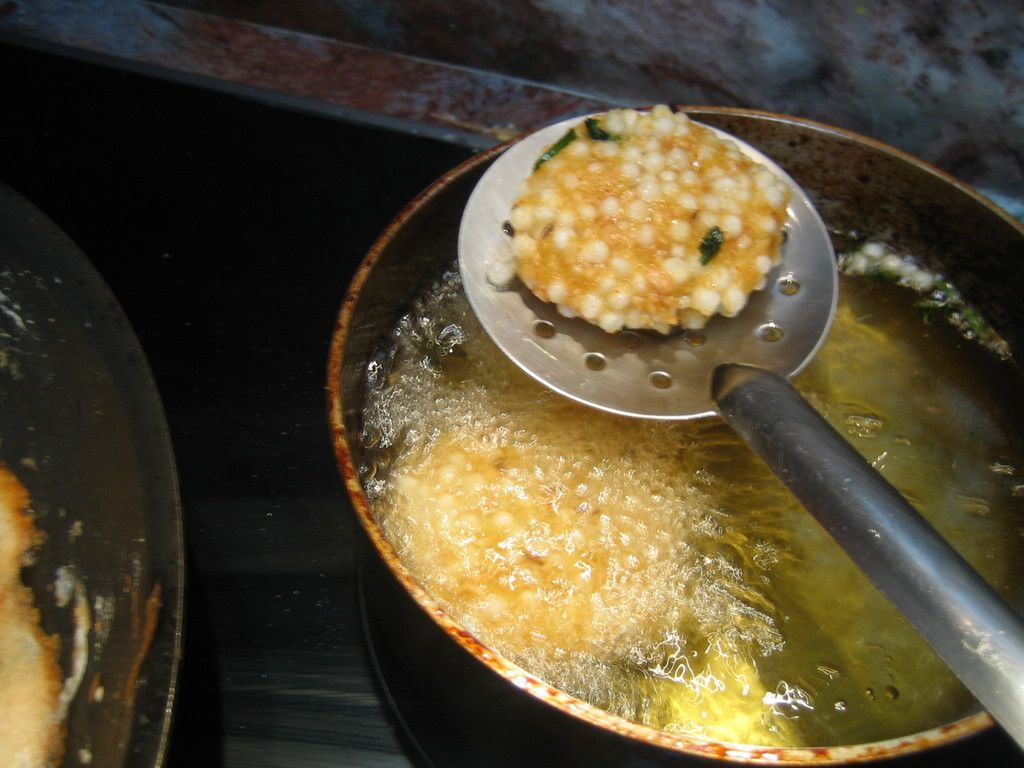 Put the oil in the deep frying pan on medium heat till it is ready for
frying about 6 minutes.
Lower the heat and put the Vadas (patties), 2 at a time in the heated oil.
You may use the frying spoon to put them in so that the oil doesn't touch
and burn your fingers. Raise the heat to medium and fry them for 2 minutes.
Turn them over to the other side and fry them for another 2 minutes/ till
golden brown. Take them out on the large plate covered with paper towel.
Paper towel is optional to avoid extra oil. Put them in a serving bowl and
serve them with Coconut Chutney without Garlic/ Tomato Ketchup/ Plain Yogurt.