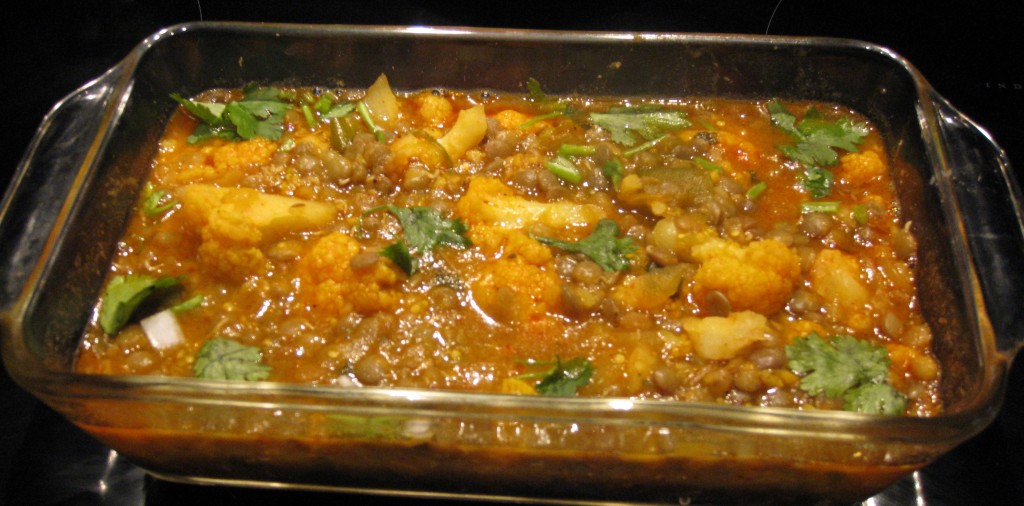 CAULIFLOWER WITH LENTILS:
SERVES FOR FOUR
INGREDIENTS:
2 Cups Cauliflower Florets, cut into small pieces
1 Cup small pieces of boiled Potato (optional)
1 Medium Tomato, cut into small pieces
½ Medium onion, cut into small pieces
3 Cloves of fresh Garlic, peeled and chopped
1 Cup chopped fresh Coriander leaves (optional)
1 Cup Canned /cooked Lentils (see below how to cook fresh lentils)
1 Tbsp. Cane sugar/ sugar of your choice
1 Tbsp. Lemon juice (optional)
½ tsp. Red Chilly powder
½ tsp. Turmeric powder
½ tsp. Salt (as per taste)
2 Tbsp. Olive oil /Canola oil
1 ½ Cup of water
COOKING DIRECTION:
In a suitable cooking pan add the oil and  put it on a medium heat for  2 minutes. Add chopped garlic and onion and stir fry for about
2 minutes. Add coriander leaves and cauliflower and stir fry for another 3 minutes. Add red chilly powder, turmeric powder ,salt, potato and tomato pieces and stir fry for another 3 minutes. Add the water, sugar and mix it with the vegetables. Bring it to boil stirring occasionally. When it starts boiling, cover the pan with a lid and lower the heat to the lowest. Cook for 10-12 minutes until the cauliflower becomes tender. Add the cooked lentils and mix them well with the vegetables. Add lemon juice (optional) and stir well. Cook for another 3 minutes by covering the pan.  Take out in a serving bowl.
Tastes nice with any bread of your choice or with plain rice of your choice.
DIRECTIONS TO COOK FRESH LENTILS:
You can get a packet of reddish brown or green lentils from any supermarket. Try a smallest packet of 200/300gm.
Wash them and in a suitable bowl which would hold 4 inch water above the lentils. Soak them in the water for 3-4 hrs. Add ¼ tsp. of sea salt and put them in a cooking pot on high heat. When it starts boiling, lower the heat to medium heat and cover the pot. Again lower the heat to lowest and cook for 20-25 minutes. Drain the excess water. Add to the above recipe in place of canned lentils.
You may refrigerate them in a plastic Ziploc bag for several days and use them as needed. They are very good source of protein and taste very nice with various salads. Look out for my recipes with lentils.