This is one of the favorite appetizers in India and now they have  become popular in U.K. and  in U. S. A. One of our American friends asked for the recipe and so I am giving it below. It is quite easy and quick to make if you have the following ingredients. I hope you enjoy them.
4 Servings
INGREDIENTS:
For potato mixture:
3 medium size potatoes boiled and partially
mashed.
1 chopped green Jalapeno (preferred )
or
½ tsp. red chilly powder
1 tbsp. of grated fresh ginger
1 tbsp. of fresh garlic paste
½ tsp. of salt (as per taste)
1 tbsp. of lemon juice
1 tsp. oil of your choice
½ cup of chopped fresh coriander leaves
Ingredients for the batter:
1 cup chick peas flour. If not available in the supper market, you
can get it from any Indian store.
1 tsp. all-purpose flour
¼ tsp. baking soda
¼ tsp. salt
¼ tsp. red chilly powder (optional)
1/3 cup of water
For frying:
2 cups of Canola/ your choice of oil. Use a small size deep frying pan so that the oil would be enough to cover the potato wadas (potato balls) while frying.
Directions: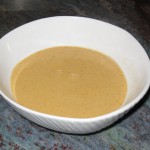 1) Batter mixture:
In a suitable small bowl mix all the dry ingredients and gradually
add water while stirring. The mixture should be like a pancake
mixture. Set it aside.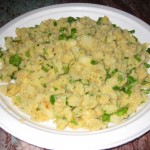 2) Potato mixture:
In another suitable bowl/plate mix all the ingredients.
3)Make eight even size balls and place them one by one on a plate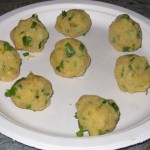 4)  Put the oil in the small deep fryer and keep it on medium heat
until it is ready for frying. Approximately, 5 to 6 minutes.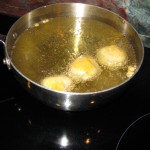 5)Dip one by one each potato wada ( ball) in the batter, enough to
cover all over and carefully put it in the fryer. You may put two
to three at a time depending on the size of your fryer. Fry them
for couple of minutes, turning from time to time until they are
golden brown. Take them out on a plate covered with kitchen
towel so that extra oil could be absorbed in the paper towel.
Put them in a serving bowl and serve with ketchup of your choice.