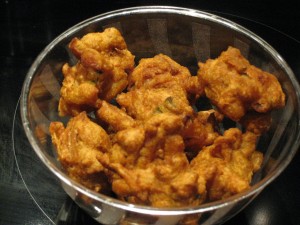 Are you looking for a quick way to impress your dinner guests? Then I suggest trying your hand at Pakoras a very popular and easy appetizer that is sure to please everyone, including the non-vegetarians! This delicious snack is enjoyed in almost every household in India, especially during the Monsoon and Winter Seasons. Just as New York City is teeming with hotdog vendors on every corner… India is teeming with Pakora vendors on every busy street!
Typically, the Pakora is made from select vegetables, coated in a chickpea flower mixture and then deep fried. One of the most popular methods, is to use onion slivers but other veggies like carrots, potatoes, and sweet potatoes may be used. Our recipe is a family favorite and I have to make extra because by the time the pakoras are ready to be served, half of them have been eaten from the basket! Sometimes I feel I need a guard dog in the kitchen just to keep all these greedy hands out!
INGREDIENTS
1 Large onion of your choice. Cut into pieces as shown in the picture below.
1 Green chilly of your choice (optional)
5 tbsp. Garbanzo flour
1 tbsp.. All purpose flour (optional to make it gluten free)
½ tsp. Red chilly powder
¼ tsp. Turmeric powder
½ tsp. Salt
¼ tsp. Baking Soda
1 tsp. Whole Coriander Seeds (optional)
½ Cup water
4 Cups of Canola Oil/oil of your choice for frying
Directions:
In a suitable bowl mix all the above ingredients except the water.
Add water gradually, 1 tbsp. at a time until the batter consistency is enough to hold on to the cut onions as shown in the picture.
Keep a suitable plate covered with kitchen paper towel ready to keep the fried Pakoras to drain the excess oil before putting them in the serving bowl.
In a large pot or deep fryer heat oil on medium heat until small bubbles  start to form from the bottom of the pan ( in about 4-5 minutes approx. ). Place carefully about 1 tbsp. of batter at a time either with hand or with a spoon. According to the size of your frying pan, you would put about 6-8 clumps as shown in the picture. Lower the heat and fry them turning a couple of times, about 2-3 minutes or until they are evenly dark brown as shown in the picture. Be careful not to burn them!  Remove them to a plate with lined with a paper towel to absorb excess oil. Repeat the process until the batter is finished.
You can serve them with various chutneys like mint or tamarind and when all else fails Ketchup tastes just as delicious with Pakoras any day!
Pictures of cut onion and chilly, batter mix and placed on the plate before putting in the serving bowl.