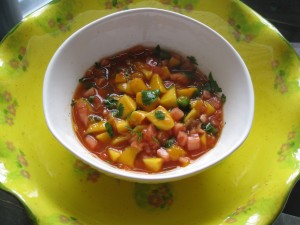 INGREDIENTS:-
1 cup small pieces of ripped mango (preferably Kent mango)
2 Medium size ripped Tomatoes. Skinned and cut into small pieces.
1 Tbsp. Chopped coriander leaves
1 tsp. lemon juice
1 tsp. finely chopped onion (optional).
2 Tbsp. Taco Bell Restaurant Style Sauce, medium hot or hot as per your taste.
A pinch of salt (as per taste)
If you want to make it real spicy you may add some chopped green chilies.(optional).
Directions:-
Put all the above ingredients in a mixing bowl and mix them well with a fork.
Put it in a serving bowl. Serve with your choice of  Chips.
Also taste very nice with grilled fish.
Hint:- Put tomatoes into boiling water for  less than a minute. Take them out and immediately put them into cold water for a minute. This makes it easy to skin the tomatoes.
Sonia.