Welcome and Namaste!
We are a Grandmother & Granddaughter Team!
This website brings to you the best of both worlds, the experience of an expert cook and fresh eyes of a young attorney  who just can't shake her cooking and photography hobby.
All the pictures  on this site are taken by us, we are working hard to take better pictures and enhance your viewing experience! After all, sometimes how food looks is more important than how it tastes! (But only sometimes!)
Note from Sonia:
This is a project that I have started with my Grandmother. We hope to use this website as a venue for our creativity and as a platform to share our experiences with you.
I can tell you that this is something that we have talked about for several years. We have always tried to figure out a way to share our homemade food traditions with friends and family members. We want to use this blog to showcase recipes that encompass traditional Indian style cooking while being modified for the our fast paced modern lifestyles. Several of our goals include preparing healthy, lower calorie/lower fat/less sugar recipes whichever  possible. You will come across many traditional Indian food served in Indian restaurants which we call "party foods" because they are often rich in fat calories due to extra use of  cream and butter. Restaurants naturally prefer this high fat/ high calorie option because food tastes better and often restaurants can often get away with using less than fresh ingredients masked by excess fat and salt.
Home style Indian cooking offers a healthy way to enjoy Indian daily low calorie food while barely sacrificing  taste. We at Eastern Aromas truly believe that the quality of food is the main secret to staying healthy. T
~Sonia
Behind the Scenes: The Master Chef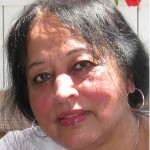 I am starting my new venture of putting my experience coupled with my expertize to work through a website and I hope our readers will find it interesting. For several years, I was the Banquet Manager for the world famous Taj Mahal Intercontinental Hotel in Bombay, India. Eventually, I moved to Florida where I joined the Sheraton Hotel group in Boca Raton, Florida. I worked there for several years, after which I joined The Westin Hotels and Resorts, Florida.
During my hotel career (spanning over 25 years) I have had many opportunities to plan and execute many very important occasions ranging from exotic events like banquets for weddings, celebrities , foreign delegations or Indian Parliament members where  planning the appropriate menu was equally important. I had to undergo the Management Training Programs in various departments of the hotel including Food & Beverage. I was one of the fortunate employees who have received many awards of excellence  from time to time at every step of my hotel career.  Not to mention the years of experience I have had by cooking and entertaining for my children, grandchildren (probably the hardest yet the easiest to please), friends and  guests have given me more confidence and satisfaction than what I achieved in my hotel career. In short, I am not a novice in the food and entertainment field.
I am especially trying to reach out to the young generation as well as anyone who has all the passion and enthusiasm to enhance their cooking using eastern flavors, methods, and recipes. By combining Eastern and Western flavors, which are very popular and enjoyed throughout the world, I hope to excite a new taste bud in people that will take advantage of both American and Indian cuisine.
I have tried to create a new way of quick, easy cooking with limited, inexpensive gadgets and healthy yet tasty and attractive recipes. In all of my recipes, calories and food value have played a very important part. Whether you are just starting your love affair with cooking or you are a seasoned veteran or should I say a connoisseur, hopefully you will enjoy cooking these recipes.  I think those who need  some guidance will benefit from this site.
I welcome all comments, suggestions, and good old-fashioned criticisms! Also, please do not hesitate to ask for much needed clarification on any of my recipes, tricks, or techniques.
VIMAL